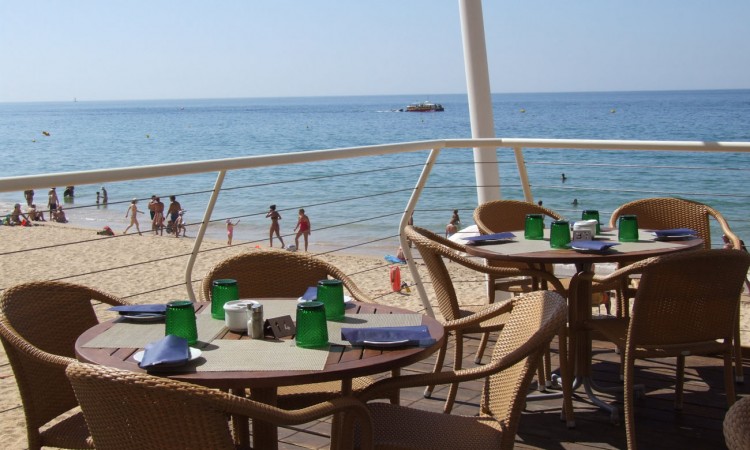 With so many restaurants in the area, you'll have a number of choices every day. Choose from traditional Portuguese restaurants, famous Piri Piri Chicken eateries and even Michelin Star restaurants. That is of course if you can tear yourself away from Figs on the Funcho. — more —
With a new concept and relaxed atmosphere, the Piri Piri Steak House at the 5 Star Pine Cliffs resort offers a unique selection of prime meat produce for all four corners of the globe, grilled to perfection. Drive time from Figs on the Funcho 35 mins.
Veneza, Paderne – A place to sit back and relax… At any moment… and enjoy.
An amazing place with good food and very nice staff. True authentic Algarvian cuisine….and a massive 50,000 bottle wine cellar. Savour the moment while you eat, drink and socialise. Drive time from Figs on the Funcho 20 mins.
Restaurante Xerem Fusion Cuisine, Paderne – A hidden gem in Albufeira country side.
Superb food. beautiful restaurant, lovely decoration and great service. It has a variety of gastronomic wonders; lovely fusion of flavours and great wine list! Drive time from Figs on the Funcho 20 minutes.
Mato a Vista, Paderne – Selection of top class wines and a shop with local Algarve products such as honey and the famous Portuguese peri peri sauce. The restaurant has a lovely, large outdoor terrace for alfresco meals and I believe there is live music on Fridays. Drive time from Figs on the Funcho 15 minutes.
Casa Da Vinha, Vale Fuzeiros – the owners family favourite!
A rustic portuguese restaurant with a simple menu using organic home grown food. Real value for money. Drive time from Figs on the Funcho 10 minutes.
Rui Marisqueira, Silves – If you like seafood try this place!
The best seafood on the Algarve and usually full of locals and tourists. The staff are very attentive, friendly and knowledgeable. The menu has a fabulous choice of seafood dishes from lobster to the humble fish soup. Drive time from Figs on the Funcho 15 minutes.
Cafe Inglês, Silves – Near the castle with lovely views of Silves from the shady terrace and live music over week-ends. Drive time from Figs on the Funcho 15 minutes.
O Alambique, Poço, Barreto, Silves – superb and unique food. This place is simply fantastic, a must visit for foodies in the area. It's a small restaurant that gets busy, so you have to book and you wait a little between courses. But it's worth it. They serve classic dishes with great local produce and fresh herbs from their garden. Drive time from Figs on the Funcho 20 minutes.
Tapas com Vinho (Tapas Bar), near the local market in S.B.Messines – great atmosphere with friendly staff. Enjoy Mediterranean and Portuguese tapas. Drive time from The River House 5 mins.
Café Académico, S.B.Messines – A lively café serving typical Portugal food in the heart of the village. Drive time from Figs on the Funcho 5 minutes.
La Cigale, Olhos d'Agua – A beach restaurant with lovely large sea views in a typical Algarve fishing village. Enjoy 'plate of the day' lunch offering a choice of fish and peri peri chicken. Olhos d'Agua has a lovely beach for kids and if the tide is out you can explore the rock pools. Fishing nets available at the little beach store. Drive time from Figs on the Funcho 30 minutes.
Agua Mel, Alte – Enjoy homemade cakes and light lunches when visiting the village, Alte. Alte is a lovely typical Algarve village with natural springs that are perfect for wild swimming. Take the pool water floats for the children if you are planning to swim in the clear spring waters. Drive time from The River House is 15 minutes.
Quinta do Mel, Açoteias near the village of Olhos de Agua – Known as the "Honey Farm" with it's own herb garden and shop selling local produce, the Algarve fire drink known as medronho, salt flakes, cork articles and canned fish. Enjoy cream tea or a typical Portuguese lunch in the countryside whilst enjoying the gorgeous country views from the restaurant. Drive time from The River House is about 30 minutes and it is 1.5km from the beach Falesia – one of the best beaches on the Algarve.